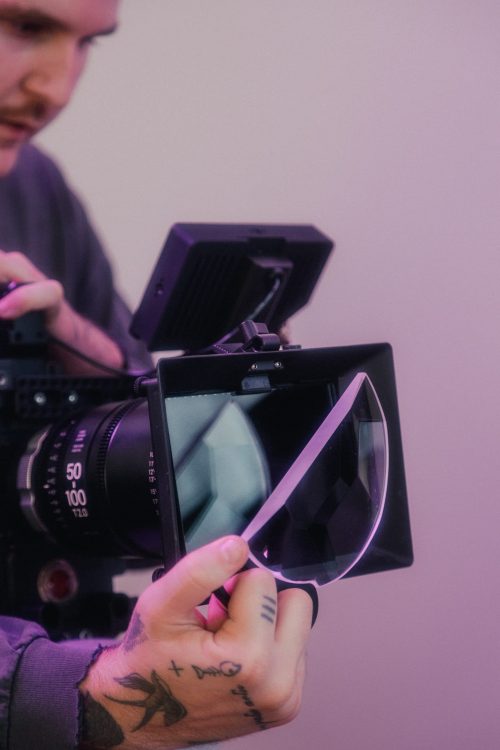 Your films & series.
Get them streaming on Fearless.
Get your films & series on the Fearless app. Grow your fanbase. Monetize your work. Join a community of forward-thinking filmmakers & creators.
This is
Ryan Balas

, one of the many Fearless Creators.
Watch the video to hear Ryan talk about his experience with Fearless and why he's proud to be a Fearless Creator.
Fearless isn't like the major streaming services.
We're different in a good way.
1. Get your work on Fearless WITHOUT Monetization.
2. Get your work on Fearless WITH Monetization.
Fearless is a subscription streaming service for powerful independent film that drives our world forward with a focus on content that features diversity and inclusion.  Members pay a monthly fee to watch content and a portion of that revenue is paid out to filmmakers via royalties based on viewership hours.
Royalty Rates (How Much Creators Earn)​
This depends on which License you are on.  On Free Licenses, Creators do not earn any royalties.  On Paid Licenses, Creators earn between $0.10-$0.12 USD per hour streamed.

*If you have a distributor, agregator, or are working under a Channel owner, you will likely have to pay them a commission out of the rates you receive.
Only for Fearless Originals. Otherwise, no.
Can I have my film or series on other paid platforms (Vimeo On Demand, streaming services, etc.)?
Of course. We encourage you to maximize your reach and your revenue by being on multiple platforms.
*Exception: Fearless Originals*
What is the contract length?
1 year. After that, it reverts to month-to-month and you can leave at any time with 1 month's notice after the 1-year minimum.
Do you distribute globally?
The app is available in US, Canada, Australia, New Zealand, Ireland, United Kingdom and South Africa. Our other "plus" platforms are global.
Where your film or series is available depends on which license you are on.
What content does Fearless approve?
We accept submissions for features, series and shorts across all genres. 
Content that features diversity and inclusion in some capacity is more likely to be accepted.  Priority content types include: LGBTQ, QPOC, indigenous, female-driven, disability, documentaries, and social impact films. 
Content does not have to have these elements – it is merely a priority for us, but we accept titles that contain none of these elements as well.
What content does Fearless recject?
We ALWAYS reject content that is intended for kids under 13 (teen content is often accepted on a case-by-case basis).
We USUALLY reject content that is homophobic, transphobic, sexist, racist, ableist or showcases violence against minorities. We review these on a case-by-case basis taking into account the context and intent of the use of these elements (ie: if its for educational or historical purposes, to illustrate unacceptable behaviour, and so on, then it is often accepted).
We ALWAYS reject titles that feature culturally insensitive terms about marginalized groups UNLESS those terms are uttered by characters that are part of that marginalized group.
Where your film or series is available depends on which license you are on.
Who decides if content is approved or not?
Fearless has a team of volunteer Curators who review titles and make collective recommendations, therefore rendering the selection process democratic. The Curation Team does not get paid and are dedicated to ensuring that representation and inclusion in the film industry is increased. The people on the Curation Team include Directors, Cinematographers, Sound Engineers, Composers, Actors, Screenwriters and other Film Industry professionals. If you'd like to join the Curation Team, email creators@support.li with the subject "Join Curation Team."
What is the selection criteria that Curators use to evaluate titles?
Writing, sound, score/music, cinematography, acting, story, impact on society, uniqueness, resolution, aspect ratio, genre, typography. Anything that a film festival would look at, we look at.  All decisions are final and we do not have an appeal process.  If your title is rejected, you may resubmit once 60 days has elapsed if you think your title should have been approved. Please do not resubmit more than twice. If you resubmit before 60 days has elapsed, your submission will NOT be reviewed.
Who content is often avoided but sometimes accepted?
The following types of content are rarely accepted:
Content geared exclusively to Kids (teen content is acceptable though).
Podcasts (Audio films/series are acceptable though).
Filmed Live Concerts & Events (unless as part of a documentary).
Vlogs or "General Interest YouTube Videos"
Content that is inherently racist, homophobic, biphobic, transphobic, or sexist is generally rejected. Exceptions are made for documentaries or titles that make it clear that such behaviour is not condoned.
Am I guaranteed to make lots of money from Fearless?
No. There are no guarantees and you should have reasonable expectations about working with us and about the industry in general. 
On Fearless, you are paid when people watch your work.   If lots of people watch your work, you earn lots of revenue. If nobody watches your work, you earn nothing. The Creators that earn the most on Fearless actively promote their own movies/shows and encourage their followers to watch their content on Fearless.  Features and series also typically earn more than short films.  Creators with 3 or more titles on Fearless also typically earn more.
If you do not promote your own work, you will not be as successful. This applies to both working with Fearless and anywhere else you choose to distribute. Marketing, promotion and advertising is KEY to success.
Why do some creators have "channels" and some don't?
Channels are a new feature that is being slowly expanded. To be eligible for a Channel, you must have a minimum of 3 titles available on Fearless and a strong Brand Identity. If you feel you meet this criteria, please email support@fearless.li to inquire.  If you have less than 3 titles on Fearless, you cannot have a Channel.
Are there additional monetization options possible?
On an invite-only basis, we are working on releasing additional monetization options slowly. If you are interested in them, please email us to inquire.
Additional options include: Affiliate Program (help us get new member signups and earn a commission everytime someone signs up), Merch Program (Fearless will sell Merch related to your series or film and you will earn a portion of sales), Branded Series (Brands will pay you to produce original series featuring their brand).
I have a great idea for a movie/show. Can I send it to you?
No. DO NOT SEND US UNSOLICITED PITCHES – WE WILL NOT LOOK AT THEM AND THEY ARE IMMEDIATELY DESTROYED.
Can I send you my screenplay?
No. DO NOT SEND US UNSOLICITED SCREENPLAYS OR MATERIALS – WE WILL NOT LOOK AT THEM AND THEY ARE IMMEDIATELY DESTROYED.